The Art of Arcadian Luxury
Located on the feet of Mount Mainalon, very close to Dimitsana's main square, the warm, friendly Methixis Boutique Hotel awaits you.
Methexis Boutique Hotel is a luxury hotel located in a tradition village of Arcadia, the historic Dimitsana. The hotel is characterized by its modern comfort, discreet luxury and modern facilities and services. The stone-built hotel with the local mansion architecture is in complete harmony with one of the most beautiful fir forest mountains in Greece, Menalon.
Its location offers a rare view of the historic town and the Lousios River Gorge. The interiors are comfortable and functional, suites that mix warmth and tranquility with elegant aesthetics, thoughtful furnishings and decorations, creating a natural and compelling atmosphere that adds a higher dimension to the meaning of modern Greek hospitality.
HOTEL EXTERNAL VIEW
ARCHITECTURE
& TRADITION
The stone-built hotel with local architecture is in perfect harmony with the natural beauty of the area. The privileged location of the hotel offers a rare view of the historic town and the gorge of the river Lousios.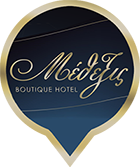 The distance Athens-Dimitsana is about 203 kilometers. You will follow the Athens-Tripoli highway, and a few kilometers after Artemisio Tunnel, turn right

at the exit Vytina-Ancient Olympia and pass through the villages Kapsia, Levidi and Vytina

. From Patra, Dimitsana is 170 km via Kalavryta and only 48 km from Tripoli (the road passes through the village Chrysovitsi).
Basic Google searches used from our customers
Information about Hotel Accommodation Methexis Boutique Hotel Dimitsana Arcadia Compare hotel prices better price Hotel destination Dimitsana Hotel Methods hotel 3 star Malevich HELEN village Dimitsana Stone property excellent traditional architectural features modern design Methexis Boutique suites Dimitsana Arcadia Dimitsana Hotels, Apartments catalog Dimitsana hotel Guide List of Hotels Dimitsana Arcadia Guesthouse Dimitsana Methexis Boutique hotel all-suites hotel METHEXIS BOUTIQUE hOTEL hotel Apartments region Dimitsana Mountainous Arcadia Prices Offers Accommodation packages special offers Dimitsana Guaranteed best price heart hotel Dimitsana Arcadia Methexis Boutique Hotel 3 stars traditional style tourism Catering Dimitsana Arcadia Prefecture Arcadia Mon Prodromou Mo of the Ancient Philosopher Gortyna Gortys Gortynia dhmhtsana arkadia Hotel in Arcadia Comfort and Luxury fairytale destination in the heart of firs Mainalo Rich activities visit the villages of Arcadia enjoy nature green scenery of mountainous Dimitsana hotel METHEXIS BOUTIQUE HOTEL methexis METHEXIS BOUTIQUE HOTEL (Dimitsana, Greece) popular attractions Stemnitsa Arcadia arcadia mountainous Dimitsana stone-built accommodation Methexis Boutique Hotel. Zygovisti stone Methexis Boutigue Hotel low priced Methexis Boutique Hotel Lagadia BOUTIQUE HOTEL Dimitsana Elati METHEXIS Dimitsana Stemnitsa stone jewelry Arcadia Methexis boutique hotel 6 romance suites in Dimitsana Gorge Lucius Arcadia volume water Lousios Methexis boutique hotel Lovely view canyon timeless aesthetics Located in the traditional village of Dimitsana this guesthouse Methexis Boutique Hotel Outdoor Museum of Hydrokinesis Holy Monastery of Aimyalon Ecclesiastical Museum of Dimitsana